Column #402            May 12, 2023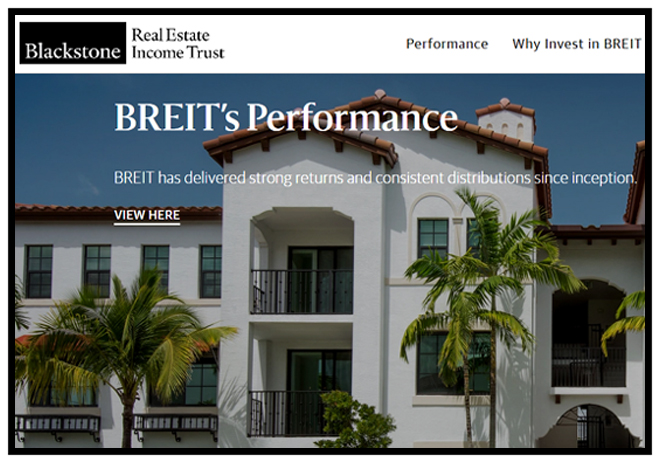 Since January 2012 the price of housing has increased significantly. Back then the median home price was $169,686.97. The median home price peaked in June 2022 at $388,006.97 for a 128.67% increase in 10.5 years. Inflation accounted for 27.5% of that increase which means housing increased 79.3% more than consumer prices generally. In some locations, the market got so hot many homes saw their prices literally double between mid 2020 and mid 2022! Since the peak housing prices have plateaued or fallen slightly.1 2
The rapid rise in housing prices was fueled by cheap money and Real Estate Investment Trusts (REITs) snapping up homes, as well as other properties, to turn them into income producing rentals. In effect, homes were regarded as investments instead of mere homes. This leveraged approach to investing created an unsustainable situation and that means that being big in real estate is now risky. Businesses that built huge portfolios of real estate on cheap money over the past ten years are ripe for a disastrous unwinding of their portfolios.
Blackstone, not to be confused with BlackRock, touts itself on its website as "the world's largest alternative asset manager, with $991 billion in Assets Under Management (AUM). It serves "institutional and individual investors by building strong businesses that deliver lasting value." Its portfolio—with "more than 12,000 real estate assets and 250 portfolio companies—enables it to invest in dynamic sectors positioned for long-term growth."3 4 5 6
Blackstone's private equity business has been one of the largest investors in leveraged buyouts in the last three decades, while at the same time its real estate business has actively acquired commercial real estate. Blackstone is also active in credit, infrastructure, hedge funds, insurance, secondaries, and growth equity. Currently, its portfolio consists of more than 100 publicly traded companies.
One of Blackstone's biggest business holdings is Blackstone Real Estate Income Trust or BREIT.  BREIT's performance focus has been on rental housing and industrial (~80% of real estate holdings) in fast-growing Sunbelt markets, with no exposure to commodity office and malls. As of December 31, 2022, these holdings included:
• 554 million square feet of industrial properties.
• 365,000 residential units, which include multifamily units, manufactured housing sites, student housing beds, single family rental homes and senior living units.
• 66 million square feet of office properties.
• 135,000 hotel keys.
• 31 million square feet of retail properties.
• 16 million square feet of self storage properties.
• 14 million square feet of data centers.7
Approximately half of BREIT's real estate asset value is in units, sites, and homes. BREIT uses debt and expects to continue to using debt with a targeted leverage of 60%.
It used to be that private real estate investing was for the ultra-rich. But no more since the Blackstone Group changed its game. It created BREIT to target individual investors with non trading stock with an investment as low as $2,500, which investors can purchase through their financial advisor. Blackstone also structured BREIT differently from other non traded REITs, which often charged high fees and had limited investor disclosure.
Those features made BREIT a hit with investors, enabling Blackstone to cash in on growing individual investor demand for private real estate. That demand had been nearly insatiable up until late 2022 with investors pouring in an average of $2 billion per month into BREIT stock.
An investment in BREIT shares involves significant risk because it is intended only for investors with a long-term investment horizon and who do not require immediate liquidity or guaranteed income. Because there is no public market for the shares, repurchase of the shares by BREIT is the only way to sell them. BREIT's share repurchase plan provides stockholders with the opportunity to request to sell shares on a monthly basis, but BREIT is not obligated to repurchase them subject to available liquidity and other significant restrictions.
Now that all the super-leveraged growth is history and interest rates have increased significantly, some investors want to sell their shares! So, guess what's happening? BREIT is restricting withdrawals to about 5% a quarter, or about 2% monthly caps, leaving investors with a narrower path out of the non trading shares.
For six months in a row investors have asked for redemptions. In April they wanted more than $4.5 billion. Out of the request, BREIT only allowed $1.3 billion to be withdrawn, or approximately 29% of the amount requested. To put a positive spin on this, Blackstone says that BREIT has "virtually no exposure" to struggling office buildings and malls and emphasizes its strong balance sheet. Still, investors wanted out of BREIT.8
So here's the picture. Interest rates have gone up and the debts accrued to make real estate purchases prior to 2022 are still there. Some investors want out. Therefore, unless more money is borrowed in order to pay them out, some real estate holdings will have to be sold to pay off secured debts and the departing shareholders. This is happening now.
Savvy folks in the real estate business can see what's coming. Therefore they will not be anxious buyers of the properties BREIT is selling because they know additional properties will soon be for sale. This is the kind of market atmosphere that can drop prices across the board. The last housing market peak was in July 2006 when the median home price was $216,292.13. A drop in price to that former top from the June 2022 median home price of $388,006.97 would be a 44.25% plunge which would just about put the median home price back on its long-term baseline.
In terms of macroeconomic conditions, if we look at the spread between the yield on a 10-year maturity and that on a 3-month maturity (short-term rates are exceeding long-term rates), it screams that there is some pain ahead for the economy. Currently interest rates are more inverted than in 2000, 2008, and 1989 when the economy and the (commercial) real estate market experienced severe pain.
There's also refinancing risk involved here. For example, Blackstone Private Credit Fund has marketable bonds outstanding on the Frankfurt Exchange. Here's five of them:
Note that the interest being paid on the face value of the bonds ranges from 2.35% to 4%. But, since market interest rates increased the bonds dropped in price so that the current coupon reflects current market interest rates. What this tells us is that if Blackstone Private Credit Fund had to refinance its bonds today, it will be saddled with interest payments that are double and triple what they have been paying.
Now the scenario for the future is that interest costs for owning its properties will increase, real estate prices will decrease, and investor requests for redemptions will mount—therefore something is going to snap. But it can get worse. As more assets have to be sold, in order to get attractive financing, the higher quality assets will likely be sold first. That leaves BREIT's remaining shareholders holding the worst income producing properties to service the higher interest payments.
Leverage on the way up is exhilarating. Leverage on the way down is terrifying. Cash is king in a credit crisis.
To your health.
Ted Slanker
Ted Slanker has been reporting on the fundamentals of nutritional research in publications, television and radio appearances, and at conferences since 1999. He condenses complex studies into the basics required for health and well-being. His eBook, The Real Diet of Man, is available online.
For additional reading:
1. Historical US Home Prices: Monthly Median from 1953-2022
3. Build with Blackstone—At Blackstone, we deliver for investors by building businesses that power tomorrow's economy.
4. All Stocks Held By Blackstone
5. Blackstone Inc. from Wikipedia
6. BlackRock  from Wikipedia
7. BREIT | Blackstone Real Estate Income Trust
8. Blackstone's Real Estate Trust Limits Withdrawals for Sixth Straight Month by Dawn Lim from Bloomberg