This recipe makes between 35-45 small meatballs. They make great leftovers, even cold!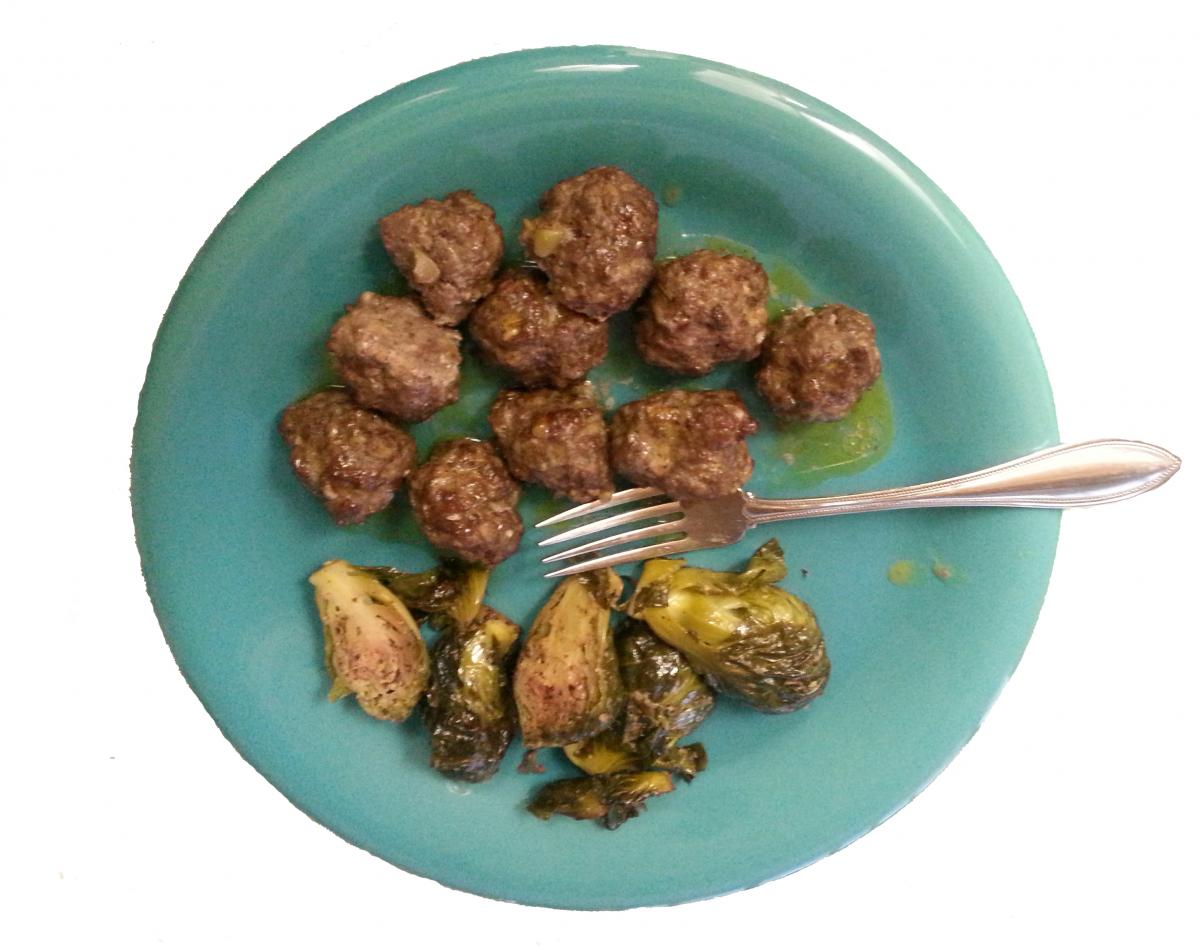 Normally we don't eat raisins because their glycemic load is so high. But, to be more authentic, we indulged and used a scant amount. The olives are high in Omega-6 and low in Omega-3 so we added the finely ground chia seeds and flax seeds to offset the olives and make a more nutritious meal. Enjoy!
Ingredients:
4 Tbs. warm water
1 tsp. cream of tartar
1/2 tsp. baking soda
2 lbs. 78% lean grass-fed ground beef
2 Tbs. homemade ketchup (without sugar) or tomato paste
1 Tbs. red wine vinegar
2-3 cloves garlic, minced
2-3 Tbs. raisins, chopped
2-4 Tbs. salad olives, chopped
1 tsp. chia seed, finely ground (suggest coffee grinder)
1 tsp. flax seed, freshly ground (suggest coffee grinder)
2 tsp. sea salt
2 tsp. ground cinnamon
1 tsp. dried oregano leaves
1/4 tsp. ground cloves
Instructions:
Mix water, cream of tartar and baking soda in small bowl and set aside. Place meat and seasonings in large bow and mix (by hand or with a mixer). Add the water mixture after all other ingredients are thoroughly mixed together. Use a measuring table spoon to scoop out enough meat mixture to shape into individual balls. Place in deep baking dish or baking sheet with a lip to catch excess fat from the meat as it cooks. Let sit in refrigerator for at least 10 minutes but as long as you need before you're ready to bake them.
Heat oven to 350° F and bake 20-25 minutes until lightly browned. Be careful not to overcook as they will dry out and become chewy.
These savory meatballs will whet your appetite for more Cuban cuisine!