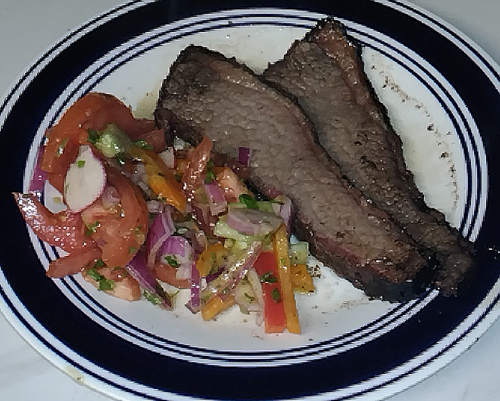 A great summer salad to serve with any BBQ meat, smoked meat, and even great with hamburgers or hot dogs. In this case it was BBQ Grass-Fed Beef Brisket.
Ingredients:

Salad:
4 to 5 Roma tomatoes chopped
3 to 4 medium cucumber sliced and cut in half (half moon shaped)
1 medium red onion, sliced moon shaped pieces
¼ c cilantro chopped
4 to 6 radishes sliced half moon shaped
1 red bell pepper diced
1 orange bell pepper diced
Optional: spinach, sliced olives, fresh mushrooms sliced, celery diced, crispy crumbled bacon, feta or goat cheese crumbled (any flavor), carrots shredded

Dressing:
4 Tbsp extra macadamia nut oil
4 Tbsp lemon juice
2 Tbsp honey
1 Tbsp Italian seasoning
4 garlic cloves, pressed
½ tsp sea salt, or to taste
½ tsp black pepper
½ tsp ground cumin sub ½ tsp paprika
Directions:
1. In a small bowl or mason jar with lid: whisk or shake together dressing ingredients: Four Tbsp macadamia nut oil, four Tbsp lemon juice, pressed garlic cloves, half tsp salt, half tsp pepper and half tsp cumin or half tsp paprika. Taste and add anything to your taste preference.
2. In a large mixing bowl, add prepared salad ingredients: chopped tomatoes, sliced cucumber, sliced red onion, radishes, bell peppers and quarter cup chopped cilantro (and any optional item).
3. Just before serving, drizzle with dressing and toss to combine. Season to taste with salt if desired.
Enjoy.
Submitted by Sandra Slanker