This article was originally written about Bo Pilgrim's eggs well before 2005 I beleive. Then along came Christopher eggs around 2010 and they were added to the article. Since then ALL real Omega-3 eggs have been discontinued. This underscores the fact that the benefits of the 1:1 ratio of Omega-6 to Omega-3 essential fatty acids for health is one of the best kept secrets at the CDC and all conventional medical institutions. It's another example of where science is ignored and why consumers have to do their own homework if they really want to know the truth about nearly anything. Ted Slanker   9/17/2021
Only Some Eggs are Fit to Eat!  Big time egg producers are talking up Omega-3 Fatty Acids but let the buyer beware. The only eggs on the market with evenly balanced Omega-6 to Omega-3 fatty acids are Christopher Eggs.   Bar none, they are the finest mass-produced egg we've found and a tour of their web site is educational and informative.  What we find flabbergasting is that there was a time Christopher Eggs were available in, of all places, Wal Mart.  But Wal Mart wanted cheaper eggs rather than healthier eggs.  So now Christopher Eggs are available in selected Kroger stores as "Kroger Private Selection Omega-3 Eggs."  They cost only a bit more more than other eggs but they are worth every penny.  You may eat as many as you want and as often as you want because they are zero glycemic and a perfect balance of 660 mg. of Omega-6 and 600 mg. of Omega-3 in every egg. .
Here's what Kroger's Christopher Egg carton looks like.

In addition to Christopher Egg, there are some other brand name eggs that advertise added Omega-3s.  Both Great Day Naturals and LAND O LAKES™ offer "All Natural Omega-3 Eggs" and/or  "All-Natural Eggs with Omega-3."  These eggs are also found in many outlets around the nation.  In both cases each egg contains 350 mg of Omega-3 and about 660 mg of Omega-6 fatty acids. That's a balance of 2:1 which, while not as beneficial as 1:1, is still much better than conventional eggs.
Pilgrim's Pride was another major league egg producer, but it no longer produces eggs.  Its improved egg product (EggsPlus) was also nutritionally superior to the regular egg most Americans bought, but still it was not as good as the eggs that come from our grass-fed chickens that eat only grass and/or bugs.  Just the same though, Bo Pilgrim's comments about his eggs are more than worth a "look see."  What's really intriguing is that he raised improved Omega-3 eggs for his and his family members' health.  Makes you wonder what he thought about his regular cheap eggs doesn't it?
Unless an egg contains at least 350 mg of Omega-3, it is basically a worthless egg.  Generally speaking eggs will have about 660 mg of Omega-6 so anything less than 350 mg of Omega-3s per egg leads to a large Omega-3 deficit that is difficult to overcome in the daily diet.  (For more about "Omega-3 deficits" in foods check out Food Analysis.)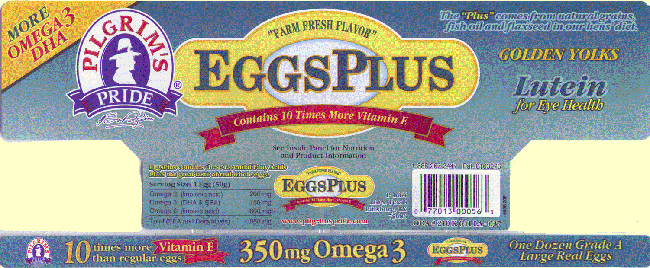 You probably can't read his comments on this picture of the EggsPlus label, so they are quoted below:
Dear Customer:
I created EggsPlus for my health and the health of my family.  My intention was to find an effective way to get Omega-3 Essential Fatty Acids and Vitamin E into my diet as real food.  I found the egg to be the most efficient way to accomplish my goal.  I feed the EggsPlus hens a natural, grain-based diet including flaxseed, fish oil, Vitamin E and Lutein.  After a number of weeks on this feeding program, the eggs produced by these very special hens qualify as EggsPlus.  The Omega-3 (including DHA and EPA), Vitamin E and Lutein are then present in the yolk of the egg.
Enjoy !  "Bo" Pilgrim
(Solely the opinion of Bo Pilgrim)
* The regular mass-produced, production-agriculture chicken egg that most Americans buy has an Omega-6 to Omega-3 fatty acid ratio of 20:1.  Professional dietitians recommend a ratio of 1:1 and definitely no higher than 4:1 Omega-6 to Omega-3 fatty acids.  Avoid conventional eggs like the plague!