Generally speaking people are not motivated the same way, many resist change, and many have different expectations for any and all aspects of doing business and what is and is not proper food.  Since we are who we are and we cannot be all things to all people like a Whole Foods Markets, we can't please everyone.  If we tried, we'd go crazy.
     On the other hand, some people welcome change.  For sure, the grass-fed meats from Slanker's, with their bold flavors due to higher levels of Omega-3 fatty acids and many other powerful nutrients, will never taste like the mass-produced, grain-fed counterparts everyone is used to.  That makes some folks uncomfortable.  Therefore we warn folks about the meats rather than encourage them to buy our meats because they are the world's best, etc., etc.  We tell everyone our meats are simply grass-fed meats.  They are not fancy.  They are not always perfectly tender.  They are just 100% grass-fed meats.  Therefore because of that they offer 100% of the nutrient needs of man in perfect balance in one package.  That makes them the most perfect food.  That's why they are different and people have to adjust to them, because we can't make the meats be something other than what they are.
     Alarmingly, most Americans are not interested in nutrition.  How their food is raised, harvested, and processed doesn't even show up on their radar screens.  For sure they'll refuse to learn about and appreciate new flavors unless it's a "new" potato chip or some such thing.  Since our focus is perfect nutrition and superior health most of our steady customers are also fixated on the same goals.  Therefore those who want fluff over substance usually float off back to the nice conventional outfits who do not ask them to change.
     There are other folks who believe that if small Mom and Pop food producers charge more for their products than the mass-produced, concocted foods of Big Business, then we're ripping them off.  Many of these people have been conditioned to believe that only Big Business in concert with Big Government can provide them with "safe" food.  In addition, they buy so many imported goods they no longer understand why buying American and supporting grassroots enterprises in our country is so vital to our national being.
     Consequently, our positive testimonials can only come from folks who focus on nutrition and are willing to go out of their way to shop unconventionally.  Of course, our steady customers are used to the 100% grass-fed meats and they really enjoy the real flavor.  Obviously, they have to be the kind of folks who can accept change and stand apart from the mob.  Also, our customers must be mature enough to know that there are inconsistencies in the real meat business.
     I must repeat, small outfits like ours cannot possibly meet every need and whim of a fickle customer.  We will do our best to jump through hoops for any customer, but we have our limits and we cannot tolerate overly demanding, spoiled rotten folks who expect perfection like as if our products were made by a machine and we owned and controlled UPS.  For more about "The Power of Please & Thank You" click the link.  It's a book offer sent my way that I thought made some really positive points.
     In that light I can introduce just a few of our many supporters.
     Harris Felman's Personal YouTube Testimonials
     Unboxing Slanker's Grass Fed Meat
     Preparing a N.Y. Strip for Oven Cooking
     It's Done and It's Time to Eat
     A Canadian Grass-Fed Meat Producer
     We are Canadian producers of elk, buffalo, beef & poultry.  While looking for a nutritional chart for our grass finished & pastured products for our new Website I came across your Website.  Needless to say I have been spending the past several hours going thru it.  Thank you for being so brutally honest with your information and having such good references to back up everything you say.
     Thank You, Thank You, Thank You - For your Amazing Website.  We will be referring our customers to it to help educate them better.
      Rockview Wapiti Farms, Alberta, Canada, January 2013
     A Medical Doctor with a Focus on Nutrition
     There are very few medical doctors in the United States who focus on the science of nutrition and Grass-Fed Meats as a primary approach to healing.  One of the best is David Holland.  He is with Concentra at the East El Paso location.  The phone number there is 915-593-1862.  He does not do telephone consulting.
David Holland, MD
     El Paso, TEXAS
     David Holland M.D., a real healthcare professional, is also an expert on fugal infestations and fungal diseases.  He stresses the fact that a person with Chronic Disease must follow a different set of rules – the diet must change, the supplements often have to change, and sometimes the environment must change.
     Another Doctor Wants Us to Spread the Word
     We just enjoyed our first cut of beef from your ranch.  They were rib-eyes and they were delicious.  The steaks were juicy and grilled easily.  The best part is, you are eating beef that is good for you.  My sons and wife enjoyed them also . . . and they are very meticulous and snobby about their steaks!  We will be ordering more in the future and I hope you will continue to spread the word about the positive nutritious qualities of Grass-fed beef.  Your web site is outstanding!  Thanks   Dr. Douglas M.  Delaware, July 18, 2006
     Guide to a Good Life
     In her book, Guide to a Good Life,
     Nell Newman, Paul Newman's daughter,
     recommends Slanker's Grass-Fed Meats
     as the resource for meat and poultry.
     Why?  Because we are a very small,
     Mom and Pop producer/retailer that raises livestock the old fashion way without
     artificial hormones and antibiotics in the feed.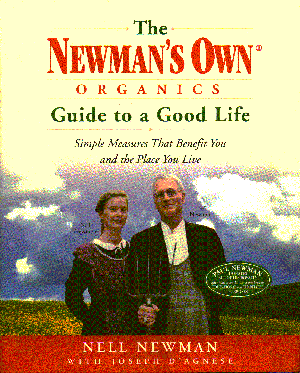 A Chef Provides His Viewpoint
     I recently purchased your sampler beef package.
     To start, I'm a second generation chef, I've been working in kitchens since I was 9.  This is the first time in a long time that I've been surprised by a product.  Your beef has convinced me that a good steak still exists somewhere.
     Even the stock I made for stew tastes better then anything I've ever made.  I compared the prices that I paid to my local store, and even with shipping the prices are comparable.  There are many different products to work with in the package, and all of them are good.
     I'm convinced, sirs, and I will be purchasing again in the future.
     My only advice is to write a small cooking pamphlet to send with the package with recipe ideas and optimum conditions. Otherwise, flawless.  I'll tell my friends in the community.  Rob. Mar 07
     Doesn't Eat Well-Done Meat Anymore
     Thank you for the work you do and the food you provide.  I've been a customer for years now and we not only benefit health-wise from your meats, but we enjoy the taste and texture much more than the grain-fed stuff.  One time I started making chili and realized I was out of ground beef.  I was disappointed to have to go to the grocery store to buy some of theirs.  I bought what seemed the best quality and grade they had, but it was a real disappointment - an icky greasy texture and inferior taste.  Now I'm much more careful not to run out.  Everyone who's tried my meals made with grass-fed meats raves about them.  My mom is shocked that I can put my ground beef directly into the chili (without cooking and draining the grease first) and it turns out very nice, rather than greasy and disgusting.
     My husband loves everything I cook with your meats, but is especially fond of the hamburgers and the minute steaks and tenderized round steaks.  He was always a "well-done" type of guy, but I've got him eating rare meats now and he loves the juiciness and tenderness and flavor.  And the roasts are wonderful.  I took a tip you gave in an article and I cut slits in the roast and put garlic slices in them.  I also add my own rub mix to the top - a seasoned salt made from real salt, chili powder, garlic powder and paprika.  I add some water to the bottom of the pot and cook it low and slow, then slice it thin and it is just delicious.  Then I keep the leftover sliced meat in the juices until we eat it all up.  We can no longer eat any chickens but yours - I either roast with veggies or rotisserie.  Always great.  We love the lunch meats and wieners. I could go on, but I'll leave it at that for now.
      I feed my dogs the D&C food, along with sardines and farm fresh eggs and your meaty bones.  Because I have 5 big dogs, I supplement their diet with the best quality grain-free dog food I can get, and they are healthier now than they were years ago.  None are fat or stinky.  My 14-year-old chow mix is still quite active and runs and jumps again like she used to.  My dogs don't get fleas or ticks anymore.  They range in age from 7 to 14, and they all seem healthier than the neighbors' dogs who are each about 1 year old and are already overweight and stinky.  Brenda H.  November 16, 2010
     Tanif Loves the Delicious Clean Taste with a Wonderful Mouth Feel
     I just wanted to send a quick e-mail and let you know that I received my order without a problem on Friday.  The UPS guy dropped it off while I was running errands, and amazingly everything was still frozen when I opened it!  Friday I defrosted some of the ground beef and my hubby and I cooked some burgers on the grill.  They were wonderful!  The were so juicy and flavorful.  Last night I rendered down the pork fat I ordered into lard and used that today to fry some french fries to go along with some more burgers.  Everything had such a delicious clean taste with a wonderful mouth feel.  It felt good knowing that my food not only tasted good but I was getting the much needed Omega 3s as well as lots of vitamin and minerals that can only be found in grass fed meats.  My husband noticed the difference too and liked it a lot more than the stuff we buy that is commercially grown.  Thank you so much for providing such a great product.  Keep up the good work!  Tanif S., San Jose, CA, July 16, 2006.
     Keeps Getting Healthier!
     I love your newsletters and this one (Many Paleo Recipes Are Nutritional Disasters) is no exception. You really "hit it out of the park" with your detailed analysis here!  Thank you for all this good information and for supplying me with meat I can trust to keep me healthy.  My doctor says I'm one of the few patients he has who keeps getting better.  I attribute my success to cooking with your products and to following your guidelines as closely as I can.  Keep up the good work!
     Kathleen R.. August 24, 2013
     Returning to that Old Savory Flavor
     My father was a career military man (Air Force).  During the height of the Cold War and the Cuban Missile crisis, we lived in Lincoln, Nebraska.  My father was an avid pheasant hunter and got to know several of the farmers in the area.  He and one of his hunting buddies would go together and buy a cow from one of the farmers.  They would have the cow processed and we would have grass fed beef all of the time.  Sunday was always steak night.
     After I grew up and got out on my own, I tried buying my steaks in the grocery store.  As a result, I all but gave up eating red meat.  I couldn't figure out if I wasn't cooking it right, or what was wrong.
     A couple of years ago, I ran across an article about grass fed beef.  I thought it would be worth a try  for environmental reasons.
     WOW!!!!!!!!!!!!!
     It wasn't me doing anything wrong with the grocery store beef, it was the grocery store beef that was wrong.
     There was the taste and flavor I remembered.  My wife and I have eaten more red meat in the last two years than we have eaten in the last twenty.
     The health benefits are an extra for us.  The taste sealed the deal.  
     Try it one time.  You will be amazed.  It's like the difference between a home grown and store bought tomato.    
     Jim, April 15, 2011
     Wayne in Pennsylvania has "Crossed over the Bridge" to Real Food
     I am well into my third order of Slanker's grass-fed beef, and I wanted to tell you that not only am I enjoying the great taste of all of the cuts and ground beef, but I have never felt better in my entire life!
     I think I have read just about every word on your web site, and I have just about completely cut out grain based and concocted foods from my diet.  Lots of little aches and pains have disappeared, and I have much more energy and a better outlook on life!
     Add to this all the fun and enjoyment I have gotten from preparing real foods on the grill and in the oven, and you come up with the fact that I am having the time of my life!
     I have you folks to thank for changing my life.  I look forward to talking to you again soon and placing my next order!
     With sincere thanks; Wayne S. in Pennsylvania.  September 13, 2005
 
Personal Service Like in the Old Days
           Hi Ted, I can't tell you how much we appreciate your quick, friendly and personal service.  We got our meat safely, and have been enjoying it ever since.  The steaks were awsome!!!  We are going to order your "side" as soon as we eat down what we have.  We are so glad we made the change for our health.  No more feedlots for us.  Thank you so much for taking the time on the phone.  It was like you had nothing else to do but take my call.  You just don't get that anymore.
           Take care and I'll order again soon.  Heidi D, TX  August 8, 2007
     I want to thank everyone there for the service you provided me last Monday in expediting my order.  To call me and take my order and then fulfill it and ship it the same day was in my opinion service above and beyond what I expected.
     Thanks again to everyone there....you are my meat supplier.  Cody S. August 30, 2010.
 Returning Customer
     Hey Ted and everyone involved, thanks for the great beef!!  Your service and shipping were no less than stellar.  I bought some a few years back and totally loved it but for one reason or another I failed to order anymore, simply eating that crap from Walmart.  I got fed-up with all of this GMO, Cloned, and God knows what else is being foisted upon us and I decided I'm not going to participate.  I wanted to send you this e-mail to say that upon receiving the meat last Friday I immediately had a burger for dinner.
     It triggered something in my body/mind that kept telling me to have some more of it and so far I've downed about three pounds.  My entire body seemed obsessed with "having another burger."  That's all I've had for three days now.  I actually feel different, and I don't believe I'm imagining things.
     For the past 15 years or so I've always enjoyed a short nap in the afternoon whenever I got the chance but I haven't felt like I needed one the past couple of days.
     I think next on the menu is Chili, Meatloaf, Tacos and Pot Roast.  I'm going to try not to do them all on the same day.  I also felt compelled to give a pound of the ground beef to a few friends to check out.  I doubt they've ever had any meat this good, they're very handy small pouches to give away.  At the rate I'm going it looks like I'll probably be ordering again before I thought.
     I'm in Natchitoches, LA about 4 hours from your ranch and if I ever get up your way I'd sure like to stop by and meet you and your cows.
     I know it's corny but I have to say it.....Head'em up, Move'em out!
     Thanks again for the good chow.  John C. in LA, August 24, 2010.
 Here's a handful of comments from our customers:
     "Thank you for the fabulous meat we are enjoying it so much and boy!!  Does it take me back to my childhood in Nebraska.  You just can't get real beef in a store anymore.  Thank you again and we will order again.  Oh I almost forgot to tell you our dogs devoured the first bones we gave them in one night.  I think they liked them :)"  Trish M., Maricopa, Arizona.
     "We are enjoying our ground beef soooooooooo much!  The hamburger is really delicious and 'clean' tasting.  So far, I've made stuffed peppers, meat loaf, and patties--all very, very good!"  Jo J., Wichita Falls, Texas.
     "The texture, flavor, and juiciness of the ground beef is far superior to anything you can buy in a grocery store.  It cooks so clean on our George Foreman grill we can clean it up with a paper towel!  The nutritional qualities of grass-fed beef are important to us because my husband had a heart attack."  Mrs. H., Springdale, Arkansas.
     "I received my first Slanker Order on Friday and for the first time in months due to our long winter, fired up the grill for some NY Strips.  I got the coals glowing nice and red and let them burn down a bit so it would allow the meat to cook slow as instructed.  Nothing but a little salt and pepper for taste.  My wife and I sat down and we really enjoyed the look of the steak, its natural flavor, and the texture.  It is quite surprising how different the aroma, taste, and texture is from store-bought, grain-fed beef.  Very pleasing.
     "The next day, I started cooking a stew about noon with the stew meat, garlic, potatoes, carrots, onions, some roasted chili peppers, and a bit of seasoning--cumin, red chile, salt and pepper.  After cooking a bit, I added a can of tomato sauce and then just let it cook real slow all day.  Fantastic!  The meat was fork tender and had a wonderful flavor that blended with the sauce, vegetables, and cold beer.
     "I am very pleased with your product and looking forward to inviting the neighbors over for a little taste."  Gregor M., Pittsburgh, PA.
     "I thawed out a sirloin to try and wasn't too careful with preparation.  I just seasoned it a little and grilled it.  Seared it quickly then indirect low heat until done.  I got it a little "doner" than intended but mostly medium to medium rare.  It was wonderfully flavorful and plenty tender.  Very juicy too.  You guys are selling yourself short on the tenderness issue."  Dale H. and family from Ballwin, Mo.  For all of Dale's letter including cooking ideas and more click here on good meat.
     "I just made my first recipe of empanadas with your ground beef and I have to say it was awesome!!!  I will never go back to regular hamburger meat again.  My next order will be to try your roasts.  Thanks for the wonderful product!  God Bless."  Nikkiin Wisconsin.
The Power of Please & Thank You:
     Eight Ways to Be a Better Customer—and Get Better Service in Return
     Customers wait on hold for an eternity. Complaints go unanswered.  Smiles and a little extra help seem like too much to ask for these days. If you think customer service has taken a nosedive, you're right, says Ron Kaufman—but there's a lot you can do to change that. Read on for his tips for being a better customer.
     New York, NY (September 2012)—You start your morning running late and sprint into your local coffee shop for your morning cup of joe. As you breathlessly place your order, you notice the barista doesn't smile at you. She utters a flat, "Here you go" as she hands you the steaming cup—Why didn't she put the cardboard sleeve around it? you wonder irritably—and moves on robotically to the next customer. As you bolt for the door, hands burning, you think Well, she was unfriendly…when did customer service get so terrible?
     It's true, says Ron Kaufman: As the way our society does business has changed, customer service in general has fallen into crisis mode. But in the case of the rude barista, ask yourself this: Did you look her in the eye? Did you say "good morning"? Did you say "please" or "thank you"? In short, how much of the bad service experience do you have to own?
     "Often, we get poor service because we're poor customers," says Kaufman, author of the New York Times bestseller Uplifting Service: The Proven Path to Delighting Your Customers, Colleagues, and Everyone Else You Meet (Evolve Publishing, 2012, ISBN: 978-09847625-5-2, $14.95, www.UpliftingService.com). "It's a two-way street. When we're rude or impersonal to service providers, we get rude and impersonal treatment back. This creates low expectations on both sides, which affects our next service interactions."
     In other words, bad customer behavior breeds bad customer service, which breeds bad customer behavior…and so on. To break the cycle and do your part to create uplifting service, be what Kaufman calls a "service champion"—someone who takes responsibility for uplifting other people's experience, even when those other people are serving you.
     "The crisis we're facing has a lot to do with the way companies think about service," says Kaufman. "They tend to silo it in one department rather than making great service a part of their overall culture, and that just doesn't work in our global economy. Customers can't do a lot about this, except take their business somewhere else. But what they can control is whether or not they contribute to the traffic of goodwill that flows equally between customers and service providers."
     In other words, he says, when you are an appreciative and considerate customer, service providers will often go the extra mile to serve you better. But if you rant and pound the table, people may serve you grudgingly, if at all.
     Read on for proven steps you can take to be a better customer and enjoy receiving better service:
     Be appreciative and polite. Remember, there is a fellow human being on the other end of your phone call, the receiving side of your email, or just across the counter. "Begin each interaction with a quick, 'Hi. Thank you for helping me. I really appreciate it.'" advises Kaufman. "This takes about two seconds and can dramatically improve the mood of a service provider."
     Get your service provider's name and use it. You can make this short and friendly by first offering your name and then asking, "Who am I speaking with, please?" Or if you are face-to-face, simply ask, "May I know your name?" "Once you know it, repeat it with a smile in your voice," says Kaufman. "This creates a personal connection and makes it much harder for a service provider to treat you like an anonymous account holder or policy number."
     Be upbeat. Many service providers face customer after customer all day long. The routine can become tiresome. "When an energetic and smiling customer appears, that person often enjoys special care and treatment in return," notes Kaufman. "What you send out does come back. Attitudes—positive and negative—really are contagious."
     Provide information just the way they want it. Many service providers need your data in a sequence that fits their forms, screens, and procedures. "Have all your information ready to go, but give it in the order they prefer," advises Kaufman. "Saying, 'I have all my information ready. Which would you like first?' lets the provider know you are prepared and will be easy to work with. The time you take getting everything in order will save time in the service conversation, too."
     Confirm next actions. Repeat what your service provider promises to do. Confirm dates, times, amounts, responsibilities, and commitments. "This helps you move together through the service process, catching any misunderstanding and correcting it along the way," says Kaufman. "Be sure you both understand what will happen next: what they will do, what you will do, and what both parties have agreed to going forward."
     When appropriate, commiserate. Sometimes service providers let their frustration show. A slow computer, a previous customer, high call volume, pressure from a manager, or some unwelcome personal event may have upset them. "When you hear an upset tone, be the one to soothe it," suggests Kaufman. "You might say, 'It sounds like things are tough right now. I really appreciate your help.' This brief moment of empathy can be an oasis in their world."
     Show your appreciation. A sincere "thank you" is always appropriate. "If your service provider deserves more, give more," says Kaufman. "A nicely written compliment can make a huge difference in someone else's day, or even career. And who knows? The person you praise today may serve you again tomorrow.
     "If you want to take showing your appreciation a step further, ask the service provider how they'd like to be recognized. For example, a realtor might prefer a testimonial for her Web site over having you send a complimentary note to her manager. A younger service provider might love it if you Tweet about them while an older generation service provider mind find more value in a completed comment card. Show your appreciation in the way your service providers want to be appreciated; after all, they served you the way you wanted to be served!"
     Spread the word. They say a picture is worth a thousand words, and in uplifting service that's certainly true. The next time you receive uplifting service at your favorite coffee shop, at the hardware store, at the post office, wherever you are, ask the service provider if you can take their picture and then ask for their manager's name and contact information. "Send the picture to the service provider's manager with a message that reads, 'This person's service makes me admire and appreciate your organization.'" says Kaufman. "Expressing your satisfaction to their manager in this way will speak volumes to the service provider and will inspire not only the service you receive in the future, but the service they provide to all of their customers."
     "Keep in mind that while this advice will help you get better service from service providers, much of it can also be used to experience more joy and satisfaction from your relationships with your colleagues, friends, and other loved ones," notes Kaufman. "What goes around really does come around.
     "When you treat someone well, whether it's your spouse, a vendor at work, or the person you meet at the coffee shop in the morning, he or she is more likely to step up and treat you well, too," he adds. "We all live and work in a whole world of relationships based on service. As you uplift and upgrade the service you provide, the world will uplift you."
     # # #
     About the Author:
     Ron Kaufman is the author of the New York Times bestseller Uplifting Service: The Proven Path to Delighting Your Customers, Colleagues, and Everyone Else You Meet (Evolve Publishing, 2012, ISBN: 978-09847625-5-2, $14.95, www.UpliftingService.com). He is the world's premiere thought leader, educator, and motivator for uplifting customer service and building service cultures in many of the world's largest and most respected organizations, including Singapore Airlines, Nokia Siemens Networks, Citibank, Microsoft, and Xerox. He is the founder of UP! Your Service, a global service education and management consultancy firm with offices in the United States and Singapore.
     Ron is a columnist at Bloomberg Businessweek and the author of 14 other books on service, business, and inspiration. Ron has been featured in the Wall Street Journal, the New York Times, and USA Today.
     With powerful insights from working with clients all over the world in every major industry for more than 20 years, Ron is an inspiration to leaders and managers in his high-content, high-energy speeches and impactful, interactive workshops. He is rated one of the world's "Top 25 Who's Hot" speakers by Speaker magazine. He is passionately committed to uplifting the spirit and practice of service worldwide.
     About the Book:
     Uplifting Service: The Proven Path to Delighting Your Customers, Colleagues, and Everyone Else You Meet (Evolve Publishing, 2012, ISBN: 978-09847625-5-2, $14.95, www.UpliftingService.com) is available at bookstores nationwide and all major online booksellers.