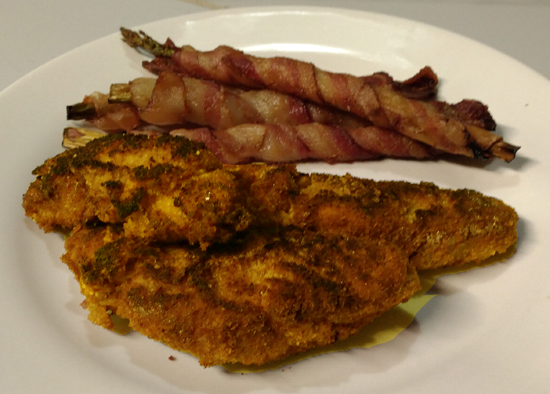 This tasty, Omega-3 Chicken Tenders recipe serves two to three people with each person getting two or three strips.
Ingredients
¼ cup coconut flour or almond flour
2 Tbsp. grated Parmesan cheese
½ tsp kosher or sea salt
½ tsp ground cumin
½ tsp paprika
½ tsp garlic powder
½ tsp black or white pepper
1 pound Omega-3 Chicken Tenders or whole Omega-3 Skinless Chicken Breast pounded down to half-inch thickness and cut into strips
1 to 2 eggs beaten
Preparation
1. Mix all dry ingredients in a bowl
2. Mix eggs in a separate bowl
3. Drench chicken strips into beaten egg(s) and gently press each strip into the flour mixture
4. Spray each strip with cooking spray to help prevent dryness
5. Place each strip on a rack that is in a casserole dish or baking pan
6. Bake at 400̊ F. for 10 to 12 minutes and flip them over and cook for an additional 10 to 12 minutes
7. To brown the outside, turn the broiler on high, place the pan six inches below the heat source, and cook for one minute and flip and cook for one more minute. Then remove from the oven. Be careful not to burn the tenders.
Serve with your favorite sauce, sweet potato fries, and salad or bacon wrapped asparagus. Enjoy
Submitted by Sandra Slanker