Column #367     September 9, 2022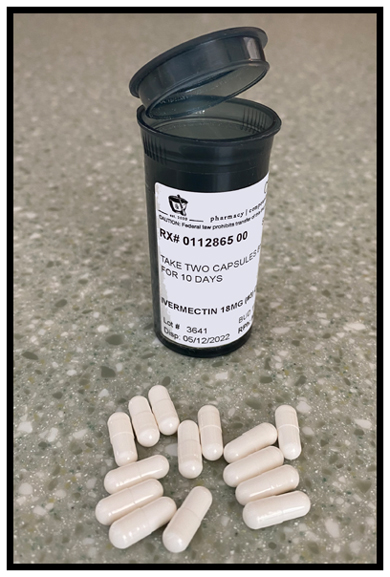 Ivermectin belongs in everyone's medicine cabinet. It's that simple.
My first mention of ivermectin was on August 28, 2020. I wrote: "Recently, some physicians have begun integrating the off-label use of ivermectin (a wormer cattlemen know well) into their COVID-19 treatment protocol. These experimental treatments are just the tip of the iceberg."1
In the same column I also wrote: "Also, for Pete's sake, children can and must go to school. When it comes to COVID-19, according to CDC's own data, children are nearly bulletproof. More than 80% of COVID-19 deaths involve people over 65 years of age yet they make up only 16% of the population. The over 85 age group is 630 times more likely to die of COVID-19 than the 18-29 age group and 10,080 times more likely to die than the 5-17 age group."
My opening paragraph correctly predicted that: "It's an uncomfortable feeling when one's fundamental premises forming his worldview are revealed as inadequate or simply wrong. When it happens to bureaucrats, career politicians, educators, and even medical professionals too often they end up struggling against the truth and doubling down."
That was written before the vaccine was available. More than two years ago, old science and also emerging science was making fools out of bureaucrats, career politicians, educators, and even medical professionals. So what are those folks saying today? Many have doubled down on the side of nonsense! The CDC still does not want folks using ivermectin. There are still school districts (mostly those tightly controlled by the various Teachers Unions) that are paranoid about children going to school. That's why some schools and universities are making children wear masks, mandating vaccines, and demanding that they follow weird protocols that we know today will not stop the spread.
Then again, on May 14, 2021, I wrote about ivermectin in "Who's Right this Time?" by saying: "About that same time I received a notice from Sebastian Rushworth M.D., a Swedish doctor who has worked extensively with COVID-19 cases in Sweden. He writes a blog and dissects controlled trials and research reports for vaccines, nutrition, and various treatments for disease. Deep in his report we see where he says: 'I was able to identify seven trials that fulfilled these criteria, with a total of 1,327 participants. What we see is a 62% reduction in the relative risk of dying among covid patients treated with ivermectin. That would mean that ivermectin prevents roughly three out of five covid deaths. The reduction is statistically significant (p-value 0,004). In other words, the weight of evidence supporting ivermectin continues to pile up.'"2
Now a very big ivermectin study from Southern Brazil (Itajaí, Brazil) has been published that says ivermectin as prophylaxis for COVID-19 led up to a 92% reduction in COVID-19 mortality. The study involved 88,012 subjects. It inspired Will Jones from The Daily Skeptic to ask "Why is it Still Not Approved?3 4
For decades ivermectin has been prescribed for people. In 2007 Dr. Omura published a report titled "Ivermectin: 25 Years and Still Going Strong." In his abstract he wrote: ". . . thousands of villagers of all ages in communities scattered throughout the remotest parts of Africa and Latin America know its name, and some experts regard it as one of the greatest health interventions of the past 50 years. Ivermectin was brought to the commercial market place for multi-purpose use in animal health in 1981. Six years later it was registered for human use. This remarkable compound has improved the lives and productivity of billions of humans, livestock and pets around the globe, and promises to help consign to the history books two devastating and disfiguring diseases that have plagued people throughout the tropics for generations—while new uses for it are continually being found."5
For the MSM, medical professionals, bureaucrats, politicians, and especially the CDC to say that ivermectin is merely a horse wormer and shouldn't be taken by humans is absolutely a perverse position.
Since just getting some ivermectin is a chore here in the USA, we are not likely to be taking a low dose of it on a continuous daily basis as do many people in Africa. Instead, I got a prescription for it that was dose related to my weight. Now, if I start to feel like I'm coming down with something (flu, cold, Covid, etc.), I can take one pill twice a day for ten days. It's important to take it at the earliest onset of symptoms rather than after the virus is well established.
If you do not have a source for ivermectin, you can find various resources with Internet searches. My favorite is Sabrina Arguelles, APRN,FNP-C. She is an Autonomous Nurse Practitioner at Nuesana Health and Wellness (www.nuesana.com) here in Florida. The phone number is 239-799-2121 and the email address is care@nuesana.com. She can only prescribe within the state of Florida but can help refer out anyone that she cannot prescribe for.6
To your health.
Ted Slanker
Ted Slanker has been reporting on the fundamentals of nutritional research in publications, television and radio appearances, and at conferences since 1999. He condenses complex studies into the basics required for health and well-being. His eBook, The Real Diet of Man, is available online.
Don't miss these links for additional reading:
1. Good COVID-19 News Column #261 August 28, 2020, by Ted Slanker
2. Who's Right this Time? Column #298, May 14, 2021, by Ted Slanker
3. Regular Use of Ivermectin as Prophylaxis for COVID-19 Led Up to a 92% Reduction in COVID-19 Mortality Rate in a Dose-Response Manner: Results of a Prospective Observational Study of a Strictly Controlled Population of 88,012 Subjects by Lucy Kerr, et al.
4. Ivermectin Cuts Covid Mortality by 92%, Major Study Finds—Why is it Still Not Approved? by Will Jones from The Daily Skeptic
5. Ivermectin: 25 Years and Still Going Strong by S. Omura
6. Nuesana Health and Wellness Sabrina Arguelles, APRN,FNP-C: Florida Autonomous Nurse Practitioner in Florida