Many people land on this Web page because they are wondering if Laura's Lean Beef is grass-fed. Her main line of "Natural" meats have never been grass-fed. They are grain-fed just like Tyson's "select grade" meats that you can buy at Wal Mart. "Natural," "organic," "free range," "heart friendly," "lean," and terms like those mean nothing when it comes to nutrition. Only grass-fed meats offer a nutritional difference in the meat category. Recently Laura's Lean started to distribute some grass-fed meat. We give her credit for that. I guess she finally learned why natural is not worth a hoot. In spite of that knowledge most of her sales are still "natural." To learn why there is just a huge difference between "natural and organic" and genuine "grass-fed" I invite you to visit other sections of my Website such as Why Grass-Fed, Omega-3 Essays , and Science Links. I'm glad you dropped in and I welcome you to my world of real food. This is your chance to really learn about the Best and Worst Foods offered in America. If you are concerned about heart health, the Why Grass-Fed link has a copy of my detailed blood lipid profile that you can download.
Ted Slanker
April 1, 2003
"Laura's Lean" Steaks Fattier Than Labeled
CSPI Finds More Than Twice the Fat, Saturated Fat as Claimed
WASHINGTON—Ribeye and strip steaks from Laura's Lean Beef may have two, three, or even four times as much fat or saturated fat as Laura's claims, according to independent laboratory tests commissioned by the nonprofit Center for Science in the Public Interest (CSPI). At least 28 of 30 Laura's Lean-brand steaks CSPI analyzed had more fat, saturated fat, and calories than claimed on the label or Laura's web site. On average, the steaks contained more than twice as much fat and saturated fat and 40 percent more calories than the company states.
Laura's strip steaks are certified to use the American Heart Association's (AHA) "heart-check" logo on their labels, yet all but one of the 14 strip steaks tested failed to meet the AHA's guidelines. One strip steak contained more than three times as much saturated fat as the AHA guidelines allow. None of the Ribeye steaks tested met the AHA guidelines, and the steak is no longer certified by the association, but five of them had the AHA logo on the label. The AHA's certification guidelines require a serving of meat to contain less than 5 grams of total fat and less than 2 grams of saturated fat.
"Laura's nutrition numbers aren't just slightly off, they are off-the-charts wrong," said CSPI executive director Michael F. Jacobson. "Anyone relying on Laura's labels or Laura's web site for nutrition information would be led to believe that the Ribeye and strip steaks have less than half the fat that they actually contain. That poses a real problem for people trying to cut down on saturated fat or calories for health reasons."
CSPI has asked the Department of Agriculture to stop Laura's inaccurate labeling and to verify the accuracy of Nutrition Facts labels on other brands of fresh meat and poultry that use such voluntary labels. CSPI has also asked the Federal Trade Commission to halt Laura's deceptive advertising and advised the AHA about Laura's misuse of AHA's heart-check logo on Laura's steaks.
CSPI also asked USDA to require labels to emphasize the number of servings in a given steak, since many consumers may eat entire steaks weighing much more than the official serving size of four ounces. For instance, someone eating an average 9.5-ounce (about 7.5 ounces cooked) Laura's Lean Ribeye steak would consume 13 grams of saturated fat—two-thirds of the government's recommended daily limit and more than six times the two grams of saturated fat per four-ounce serving listed on the label.
CSPI also expressed concern that the American Heart Association was letting its trusted heart-check logo be misused. In a letter to AHA President M. Cass Wheeler, Jacobson praised the program but urged AHA to better monitor the use of its logo. And, since the Laura's Lean Beef violations seem so flagrant, CSPI suggested that the AHA consider barring the company from its food certification program.
"Only one of the 30 steaks we tested would qualify for the Heart Association logo, and I have a hard time believing that our test results come as a surprise to Laura's Lean Beef," said Jacobson. He urged the Heart Association to focus especially on the accuracy of nutrition information for meat and other fresh foods, the nutrient content of which is more variable than that of processed foods.
CSPI purchased the Ribeye and strip steaks—Laura's two best-selling steaks—from supermarkets in New York City, Washington, Los Angeles, Chicago, and Portland, Oregon. CSPI noted that although the nutrition data on Laura's web site and labels is deceptive, Laura's Lean Beef's Ribeye and strip steaks are indeed leaner than the average supermarket steaks.
Web Posted Meat News
June 2, 2003
Heart Association Praised for 'Laura's Lean Beef' Crackdown
Action Taken in Response to CSPI Investigation
Strip steaks sold by Laura's Lean Beef will no longer be certified to bear the familiar "heart-check" seal of the American Heart Association (AHA), now that the group has confirmed that the steaks have more fat than AHA guidelines allow. Also, the AHA will be taking action to stop the unauthorized use of its heart-check logo on Laura's Lean Ribeye steaks. The crackdown is in response to an investigation into Laura's Lean Beef conducted by the nonprofit Center for Science in the Public Interest (CSPI), which tested 30 Laura's Lean steaks earlier this year.
"The American Heart Association is taking sensible steps to protect consumers and preserve the integrity of its food certification program," said CSPI executive director Michael F. Jacobson. "It's important that the foods that bear the association's seal meet the association's criteria.
"In addition to misusing the heart association's symbol, Laura's Lean Beef illegally deceives consumers about the true fat and saturated fat content of its steaks. CSPI's lab tests showed that Laura's Lean strip steaks and Ribeyes have, on average, twice the fat and saturated fat as the company claims, with some steaks having three or four times as much. Although Nutrition Facts labels are not required on fresh meat, the labels must be accurate."
While the company's strip steak was certified to use the AHA logo, all but one of the 14 strip steaks tested failed to meet AHA guidelines, which require a serving of meat to have less than 5 grams of total fat and less than 2 grams of saturated fat. And although the AHA had already decertified Laura's Lean Ribeyes, one third of the Ribeyes CSPI purchased improperly bore the AHA heart-check seal.
CSPI also asked the U.S. Department of Agriculture and the Federal Trade Commission to take enforcement action against Laura's Lean Beef. Despite having the results of CSPI's laboratory tests, Laura's Lean has yet correct its nutrition facts labels or the nutrition data on its web site.
The Heart Association also told CSPI that it is enhancing its policies regarding the certification of beef products, including more frequent random lab testing.
Web Posted - Meat News
Now for Ted Slanker's Commentary . . .
The Truth of the Matter
Generally speaking, grain-fed meats that are labeled "lean" earn that label because they have lower overall visible fat content levels than "conventional" meat products. The "lean" label does not mean that the fats in "lean" meats are good fats or are the proper balance of fats our bodies require for optimal health.
In nearly all cases the "lean" label indicates that the meats came from grain-fed critters that produced less visible fat -- or the visible fat was trimmed off! Since the critters were grain fed, their overall fatty acid profile (in the membranes of all cells), other nutrients, and vitamin levels are grossly skewed in all the wrong directions. This means that when you dine on grain-fed "lean" meats you will do your body a major disservice.
On the other hand, when you eat grass-fed meats, you actually want to have some visible fat because its fatty acid composition is properly balanced for your body and will actually enhance your overall health and well-being.
If this is true, then why did the American Heart Association (AHA) certify Laura's Lean for its "heart check" seal in the first place? The only answer that we can come up with is that the AHA gets a lot of donations from Big Business food processors and producers that rely on grain in their food production systems. Consequently, the AHA is reluctant to tell the whole truth about fats and what is and what is not "Heart Friendly."
If that's not the case, then is it possible the AHA isn't aware of the scientific research regarding essential fatty acids that has been ongoing since the late 1970s? Whatever the case, the AHA does a pathetic job of telling the Omega-3 story.
If you want to know the facts about fat and health please visit: Education.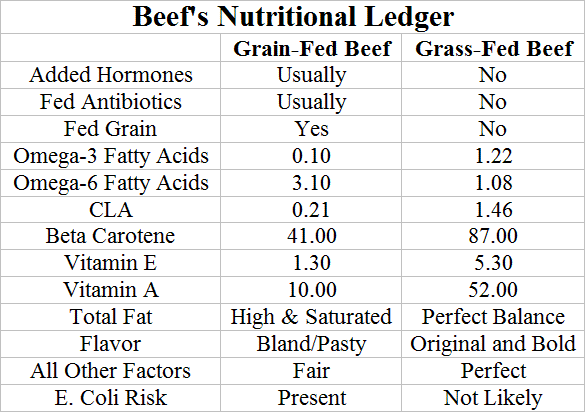 Slanker Grass-Fed Meat ships Heart Healthy Grass-Fed Meats to: