Column #417      August 25, 2023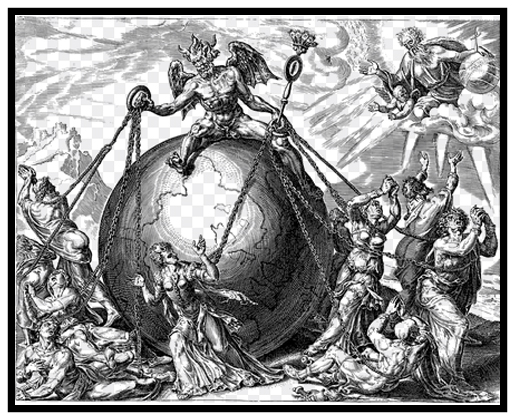 The number of ignorant, voting-age Americans is absolutely astounding. Polls continue to indicate that Biden has a 42% approval rating. Kamala's approval rating is 40%. These numbers aren't from polling about which party to vote for, it's people responding to the basic question about job approval. Do you approve or disapprove on their job performance?1 2
In light of their performance to date, Biden-Harris may have the worst track record of all of the country's past administrations—even including the Carter administration. In the opinion of Stephen Hess, "Jimmy Carter's failure to set consistent policy goals—or more grandly, a philosophy for government" was his downfall. That's why his approval rating was touching 31% as his term was ending. Much of that low polling number was blamed on the Iran hostage crisis that started in 1979. But to his credit, Carter didn't negatively alter the country's trajectory as have other presidents.3 4
Some decades ago I often said that the president of the United States had little impact on the country's economy because economic activity would cycle up and down with or without a president. But presidents have gradually changed the trajectory of economic activity. Wilson altered the country's trajectory with the creation of the IRS and the Fed. Roosevelt made it worse by introducing dozens of agencies, New Deal programs, along with devaluing the dollar and divorcing it domestically from gold. Johnson's guns and butter programs led to Nixon totally divorcing the dollar from gold internationally causing the dollar to eventually lose almost all of its purchasing power. And Bush the younger lied to us to get us involved over our heads in the Middle East and waste trillions of dollars and untold lives. Yet the policies of all those presidents didn't upend the spirit of the dream our Founding Fathers had in 1776.
On the other hand Biden's policies are so incredibly un-American it's a wonder that 42% of the citizens actually approve of his performance. For starters, Biden has proven to be the most corrupt president in the nation's history. How could anyone approve of that? He rarely talks to the public and as a result has the least open administration in history. Obviously dementia has made him unfit to serve. His foreign policy moves have been disastrous failures from Afghanistan to Ukraine/Russia. His domestic spending programs (Bidenomics) unleashed inflation, ballooned the Federal debt, and caused a drop in the country's credit rating. His desire for more government regulation has strangled some American industries while forcing others to produce what government mandates rather than what market forces want. But those points are on his "better side."
What's really been a disaster is that the Biden/Harris administration has strived to change the fundamental nature of the country in a way our Founding Fathers wouldn't recognize. He has literally dismantled the Southern Border and unleashed a flood of migrants into the country who know nothing about our social structure. He has staffed his administration with mentally messed up people based solely on their woke beliefs about gender, race, and ethnicity rather than on professional competency. He has pushed senseless, woke ideologies into our classrooms, the military, the legal system, major businesses, and government agencies of all stripes. He has weaponized government agencies against citizens who have conservative and even centrist philosophies. He has increased racial conflict. He ignores the Constitution, Bill of Rights, and many other laws. And he has expanded old giveaway programs and created new ones that lure citizens into bondage.
There is one thing the Founding Fathers knew when they created a republic form of government. It's summed up succinctly in an often told story, "that upon exiting the Constitutional Convention Benjamin Franklin was approached by a group of citizens asking what sort of government the delegates had created. His answer was: 'A republic, if you can keep it.'"5
There's a Alexander Fraser Tytler quote that sums up where we are today and it goes a long way toward explaining why Biden has a 42% favorable rating. It is:
"A democracy cannot exist as a permanent form of government. It can only exist until the voters discover that they can vote themselves largesse from the public treasury. From that moment on, the majority always votes for the candidates promising the most benefits from the public treasury with the result that a democracy always collapses over loose fiscal policy, always followed by a dictatorship. The average age of the world's greatest civilizations has been 200 years. These nations have progressed through this sequence: From bondage to spiritual faith; From spiritual faith to great courage; From courage to liberty; From liberty to abundance; From abundance to selfishness; From selfishness to apathy; From apathy to dependence; From dependence back into bondage."6
Unconstitutional helicopter money isn't new, but it's still the latest and greatest tactic in our nation's modern monetary policy. Federal government benefits come in so many forms these days that they are intertwined into every fabric of our lives. Scores of them are simply matching grants for the various services provided by states, counties, and cities. There are also the very popular programs that have been around for decades such as medicaid, SNAP, school lunches, welfare, housing (rental) assistance, FEMA, grants and loans. Scores of government agencies also provide financial aid to help college students, research and development in university laboratories and special departments such as transportation. The agencies also work hand in hand with industry funding various projects. On top of these programs that are already in place, Bidenomics has been adding to the list.
One of Biden's favorite schemes, for giving away largesse from the public treasury, is to "invent" a full or partial forgiveness of student debt. Another favorite is running massive deficits to fund his favorite fearmongered programs—which trickles down into the hands of citizens while enriching insiders. For instance, there are subsidies for buying electric vehicles, solar panels, and charging stations. During the pandemic there were monthly payments given to hospitals and households, free food, and payments for rent and student debts were suspended. Bidenomics also opened the southern border, flooding the nation with illegal migrants who take advantage of social programs. And it encourages district attorneys all around the nation to go easy on crime and interfere in elections.
Take a gander at https://www.benefits.gov/. There you'll see that Benefits.gov allows you to "compare your eligibility for over 1,000 state and federal benefit programs. Learn more about how to use the Benefit Finder to connect you to the government benefits you need."
What's amazing about these programs is that many professionals are getting rich off of supplying the benefits the government gives away. So not only are the down-and-out citizens being lured into bondage under the spell of easy money, so are members of the upper class and fully employed citizens. Recently an updated program from the federal government offers free or discounted internet to many Americans, including many active duty families, veterans, and their survivors.
One of Biden's many lies is that (name a Federal program) "will cost you nothing." He says he'll get the funding by forcing the rich to pay their "fair share," therefore what the government rakes in from taxes will be greater than what's being given away. Yet under Biden's schemes the Federal debt grows faster than ever before with interest expense for the debt growing even faster. So the tab for interest on the debt now exceeds the military budget and that money can only come from two places—either working stiffs or the printing press.
If you start analyzing the economics of Bidenomics, you'll see it's designed to lure you into bondage. As P.J. O'Rourke has said, "It's not an endlessly expanding list of rights—the 'right' to health care, the 'right' to food and housing. That's not freedom, that's dependency. Those aren't rights, those are the rations of slavery—hay and a barn for human cattle."
Gary Barnett explains it this way: "Most of you have entered the final stage of your voluntary acceptance of mass slavery, and that slavery is fully dependent on the concept of fear, compliance to a false 'authority,' and total dependence on the very tyrant called government, whose plan is to control the world by controlling the common, ignorant, and apathetic collective crowd called 'the people.' The most vital component of this 'Great Reset' agenda, is for the majority to be dependent on the State, and that phenomenon is now close at hand."7
Yes, currently 42% of America's voting citizens are fully convinced that Biden is their man and, with that notion, they are voting for bondage over freedom. Reversing the thinking of the irrational mob is not impossible, but it's very difficult. Schools, from preschool up through the universities, are working feverishly to increase the ranks of the ignorant. And it's there where conservatives and moderates have work harder in order to reverse the process that will destroy America from within. On top of that, everyone must become more politically aware in order to intelligently vote for representatives who will actually stand up for what our Founding Fathers fought for.
Another aspect of bondage is fearmongering. That's the government's and mass media's constant alarms about global warming, foreign military threats, extreme weather conditions, threats of nuclear war, of financial collapse, of food shortages, of extreme inflation leading to extreme prices, to new 'pandemic' emergencies, to travel restrictions, lockdowns, monitoring of all transactions, and more. All of those fears are designed to make you more susceptible to government bondage.
Certainly this is a time for action over complacency and/or ambivalence.
To your health.
Ted Slanker
Ted Slanker has been reporting on the fundamentals of nutritional research in publications, television and radio appearances, and at conferences since 1999. He condenses complex studies into the basics required for health and well-being. His eBook, The Real Diet of Man, is available online.
For additional reading:
1. CNN Poll Tracking: President Biden's Approval Ratings from CNN Politics
2. What Does America Think of Kamala Harris? by Matt Stiles, Ryan Murphy and Vanessa Martíne from LA Times
3. Jimmy Carter: Why He Failed by Stephen Hess from The Brookings Institution
4. Jimmy Carter Public Approval by The American Presidency Project
5. Perspectives on the Constitution: A Republic, If You Can Keep It by Richard R. Beeman, Ph.D. from National Constitution Center
6. Alexander Fraser Tytler Quotes from Goodreads
7. Dependency on the State Is the Core of the Takeover Plot of Humanity by Gary D. Barnett from Lew Rockwell