Column #341     March 18, 2022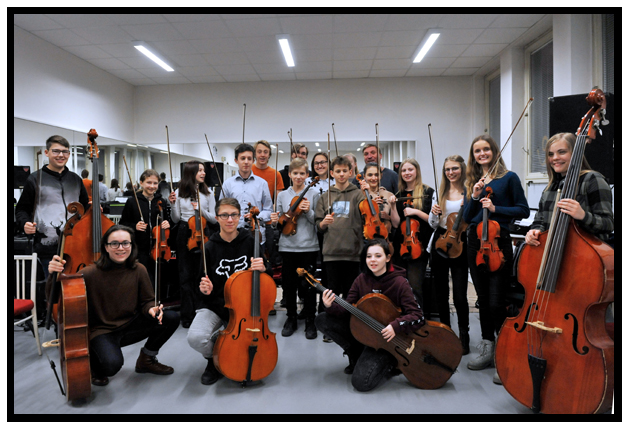 I've always appreciated opportunities to meet new people. You just never know how a meeting will progress. Over the years I've met people from all stripes. In most cases, good or bad, they've provided some lessons. Of course, some of the folks are forgettable for sure. But I've been blessed to have developed friendships with some exceptional people who have enriched my life.
I met Michael Šust last year. It was his incredible, bass-baritone voice that jarred me awake at a practice session for a local singing group. The only reason I was there was because Linda was playing the piano and I was watching the rehearsal. As fate would have it, in the months to follow Linda and I became more acquainted with Michael, his wife Colleen, and their daughter, Christy, who sings with them.
What's really striking about them is how alive they are. They are enthusiastic, full of energy, caring, friendly, religious, outgoing, great conversationalists, conservative, sharp as tacks, and very talented. You can learn more about them by visiting their "We Go Vertical" website. If you look under "What We Do" you'll understand how busy Michael is in ministering and community outreach. He has also posted some of his videos of their performances. As if he wasn't busy enough, Michael hosts foreign music groups (choirs, orchestras, bands—usually students) to visit the American continent. And last week that led to our church hosting a performance by the award-winning Smiling String Orchestra from the Czech Republic.1
In addition to the pieces performed by the amazingly talented orchestra group consisting of 20 young musicians, Michael, Colleen, and Christy sang several songs that made for a very entertaining night of light classical, Broadway, and hymn tunes. In addition, even the Peace Presbyterian Church Chancel Choir added backup to some pieces. For sure it was an uplifting, inspiring, and entertaining evening. And, unlike like Christmas Eve taping, the video worked perfectly this time and the concert can be viewed online HERE.2

The string orchestra was established in 2013 by Mr. Mikuláš Ježek, an accomplished international viola player and conductor. He is a graduate of the National Conservatory in Brno and received his Master of Music Degree in chamber music from the Academy of Music in Prague. The orchestra is a part of the ZUS Střezina, a School for the Arts in Hradec Králové, Czech Republic where Mr. Ježek is a teacher.
The nucleus of the orchestra is a string quartet made of the lead students in the string department which recently received a special award for the best student chamber group in the national Young Talent Competition (high school category). The orchestra includes middle school and high school students selected from the school's large string department.
They performed in Prague for the members of the Czech Parliament and at the Foerster Music Festival in Libán in 2018. In 2017 the orchestra published their first CD featuring the film music of the British composer, Rachel Portman, a winner of the Academy Award in the category of Best Musical or Comedy Score (for Emma in 1996) and the Primetime Emmy Award for Outstanding Music Composition for Bessie. In 2017, the Czech violin virtuoso, Pavel Šporcl, selected the "Smiling Strings" for his special five-concert tour. In May 2018, the orchestra won the national competition of string orchestras in Olomouc in all age categories (even though their oldest students were only 16). The group was officially crowned "The Best Student String Orchestra in the Czech Republic."
The orchestra first toured in Canada and the USA in December 2018 (same group name, but different students) performing together with Czech-born, American bass-baritone Michael Šust and his family.
The Smiling String Orchestra puts on a quality performance which is a nice break from the health and political strife we're subjected to these days. It also reminds us that classical music knows no national borders as it is read and performed around the world. I encourage everyone to tune into the video and relax while taking in a little culture. One can enjoy it just as listening music if they prefer. For sure, it will be time well spent.
To your health.
Ted Slanker
Ted Slanker has been reporting on the fundamentals of nutritional research in publications, television and radio appearances, and at conferences since 1999. He condenses complex studies into the basics required for health and well-being. His eBook, The Real Diet of Man, is available online.
Don't miss these links for additional reading:
2. The Smiling String Orchestra from the Czech Republic featuring the Šust Family Singers lead by Dr. Michael Šust and the Peace Presbyterian Chancel Choir.