Column #286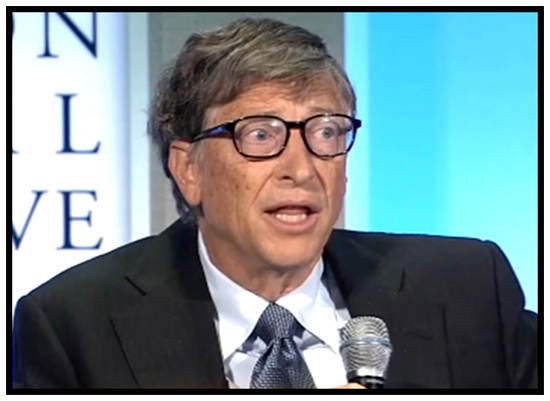 America's meat production industry (ranchers, meat processors, and businesses that specialize in their needs) is coming under the gun. That's because it may not be long before the only meat messages you'll be allowed to see and hear will be full retard harangues about cattle damaging the environment, eating meat causes heart disease and cancer, and raising cattle harms cattle!
Some multi-multi billionaires such as Bill Gates, George Soros, Mark Zuckerberg, Jack Dorsey, Jeff Bezos, Mark Cuban, and similar types, believe they know best how us plebs should be functioning. This doesn't mean that every idea they have is stupid; far from it. But for a fact they are imperfect people just like the rest of us. With all that can be known in this world, just like any clique, they are equally susceptible to myths, conspiracy theories, and total ignorance just like plebs.
Because they've been incredibly successful (and a little lucky), what many of the super rich don't realize is that "regular" people can be very smart in their own right. In fact, the combined wisdom and knowledge of the plebs make the billionaire cabal look like they're a bunch of simpletons. For instance, what each one of them knows about nutrition is pathetic.1
Sensitivity for the planet's health is something many people exhibit these days. Environmentalism isn't just a concern that members of the Sierra Club practice. For participants in the ranching, farming, fishing, and lumber industries, utilizing sustainable practices is crucial for their long-term survival. Therefore the unshod are as concerned as are the woke global warming types, except they have to be ultra practical. Unfortunately, because they are practical,  the ivory-towered critics think they are the problem rather than part of the solution.2 3 4
As I've noted many times in this column, meat (specifically grass-fed, wild-caught, and Omega-3) is the healthiest food humans can eat. By default, meat from animals that have the nutrient profile of the green leaf at the bottom of their food chain will provide all the nutrients, in perfect balance, that humans require for optimal body function. It's why humans were mostly meat eaters for the past four to five million years. I've written scores of columns on this topic.5 6 7 8 9 10
Some plants properly provide the full spectrum of nutrients animals require. Unfortunately it's mostly the green leafy varieties that are the most nutritious and humans can't eat them in the quantities required to get the calories necessary to stay active. When sugars and high carbohydrate vegetables are added to the diet for energy, that skews the diet's nutrient profile degrading health. These commonsense statements regarding nutrients and health are based on simple, well-established facts.
So now comes along the famous, fabulously rich oligarchs who are encouraging the Great Reset which incorporates the Green New Deal. Not too surprisingly, they tell us to do as they say, not as they do. For instance, Bill Gates writes a book about cutting green house emissions but says he still needs to fly his jet around the world because he's so important. Then he tells us that citizens of rich countries must stop eating real meat and switch to concocted, vegetarian meat to save the planet, themselves, and the animals. But he loves to eat cheese burgers.11 12 13
I was sent a recent article about beef that will likely be the format for all of the nutritional advice you'll see regarding meat in the foreseeable future. It's titled "Is Grass-Fed Beef Good for Your Health & the Planet?" The article is a slick scam from beginning to end with tiny tidbits of truth, many half truths, lots of outright falsehoods, and total lies all mixed together. It's a clever ruse designed to get people to be vegetarians. Of course, what is left out of their sinister story would destroy their conclusion. I call their hit piece "sinister" because to the uninformed masses their gibberish can make sense. Unfortunately it's the easily mislead people who are already suffering the most from chronic diseases. So they are sunk.14
In case you don't want to check it out, here's the article's conclusion which is so ridiculous one would think it was written for kids in kindergarten. I see numerous misleading points in EACH paragraph. Can you pick them out?
"Conventional feedlot-finished beef is nothing short of a health, environmental, and ethical disaster. And grass-fed beef is arguably better on all three fronts. So if you're going to eat beef, then there are good reasons to choose grass-fed and organic beef over the products of feedlots.
"But if you want to save money, and do a good turn for your health, the planet, and the animals, there are plenty of plant-based options to choose from.
"There are also plant-based meats, of course. But don't forget about beans. If the whole world started swapping beans for beef, we could take a huge bite out of climate change. We could save what's left of the Amazon rainforest. We could spare the lives of tens of millions of cows. We could restore the fertility of our soils. And we could prevent countless heart attacks, too."15
Is this why Bill Gates is buying farmland? He's bought enough so far to make him the top private farmland owner in America. Is he planning on being the nation's largest grower of grain and vegetables? That figures since some people believe Bill Gates wants to "force-feed" fake beef to the developed world. That follows because fake beef is made from plant parts. Of course the plant parts can't possibly replicate the total nutrient package that's in readily available in grass-fed, wild-caught, and Omega-3 meats. Nor is farming environmentally friendly. But I guess nobody wants to address how ripping up the soils impacts the atmosphere.16 17 18 19
As everyone knows, and many seem to think it's okay, we live in a cancel-culture society these days. Just like in communist China, where there is no freedom of speech and where children are taught that religions are evil, it's now happening in America. Most of our schools and universities are on board with the secular, cancel culture movement with teachers and students applauding the oligarchs who control the MSM, major social media platforms, and Google. They believe they are being protected from harmful ideas.
Some Americans see that as a big plus. But I don't. Nor do our employees, our livestock suppliers, and our processors. All sectors of our industry require a voice to survive. Our meat customers should be just as concerned about the cancel culture if they want to stay healthy with the freedom to eat the foods of their choice. But the threat doesn't stop with just meat markets; all businesses that are outliers to the accepted norms set by the oligarchs are in danger. The oligarchs have the power to shut us all down in the flip of a switch. If in concert they can ban the president of the United States; nobody is immune.
Some people say Jonathan Cahn is one of the top 40 spiritual leaders of the past 40 years; right along with Billy Graham and others of that stature. He is known as the prophetic voice of this generation and has spoken on Capitol Hill, at the United Nations, and to millions of people around the world. Yet he was recently shadow banned when he posted a "Prophetic Message for President Joe Biden." (Shadow banning is when searches for a specific topic on a website will not appear in the search engines.)
I bring up Cahn's shadow banning and the downplaying of religions to make a point. It's that celebrating extreme deviation from the norms in politicians, dictatorial government regulations, bureaucrats, paper money handouts, a society where anything the mob wants is acceptable, a soaring stock market, and debt accumulation are symptoms of debauchery. When the masses go to extremes in behavior that cannot withstand the test of time, there are consequences. The Bible points this out over and over again, showing us that history repeats itself. Today the cancel culture is cancelling voices of common sense, religion, and our history and there's no doubt there will be a price for that.20 21 22
Cancel culture, if it's not stopped soon, will only get worse. Currently some conservatives are being silenced because their ideas run counter to the desires of the left. But in time it will be the moderates and then even the radical left who are silenced. Why? Because the silencers, the Truth Police, are oligarchs who want to rule without objections. The oligarchs are today's gatekeepers of truth and they are wielding their unopposed power right in front of us in plain sight. Maybe that's why our nation's capital is an armed camp so it's protected from whom? And now we're being told what we must eat to fulfill their agenda.
In this environment of constant manipulation of facts, fearmongering, and edicts to control public perception, truth becomes all the more important to seek and find.
To your health.
Ted Slanker
Ted Slanker has been reporting on the fundamentals of nutritional research in publications, television and radio appearances, and at conferences since 1999. He condenses complex studies into the basics required for health and well-being. His eBook, The Real Diet of Man, is available online.
Don't miss these links for additional reading:
1. The Weird Eating Habits of Jeff Bezos, Mark Zuckerberg, Elon Musk and Other Tech Billionaires from South China Morning Post
2. Environmentalism from Wikipedia
3. Grow Veggies—But Where??? by Ted Slanker
4. Hooves and Dirt by Ted Slanker
5. Meat Myth Crushers by Ted Slanker
6. Saturated Fat Is Not the Major Issue by Aseem Malhotra
7. Is it Actually Different? by Ted Slanker
8. Nutritional Composition of Red Meat by P. G. Williams
9. Why Is Red Meat Bad? by Ted Slanker
10. Eleven Reasons to Eat Beef Every Day by Amanda Radke
11. Green New Deal by Ted Slanker
12. The Great Reset by Ted Slanker
13. You've Been Lied to: Methane & Cows by Ted Slanker
14. Is Grass-Fed Beef Good for Your Health & the Planet? by Ocean Robbins from Food Revolution
15. Why Meat is Best for CVD by Ted Slanker
16. America's Biggest Owner Of Farmland Is Now Bill Gates by Ariel Shapiro from Forbes Magazine
17. Bill Gates Says Developed World Should Get Ready To Be Force-Fed Fake Beef by Tristan Justice
18. Bill Gates Goes Full Captain Planet from Zerohedge
19. Bill Gates Says Rich Nations Need to Move to '100% Synthetic Beef' by Amanda Radke
20. Big Tech vs. Christians by Rod Dreher from The American Conservative
21. Jonathan Cahn's Prophetic Message for President Joe Biden, Part One
22. Jonathan Cahn's Prophetic Message for President Joe Biden, Part Two