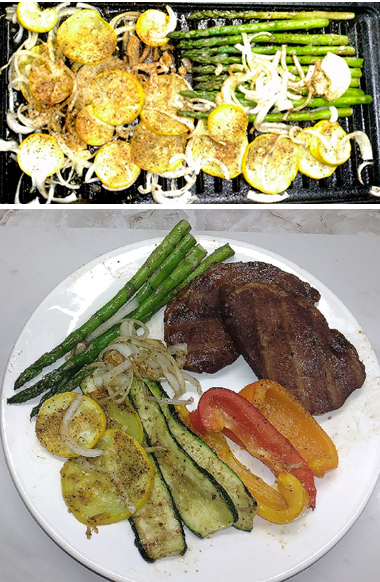 A great summer vegetable side to cook on your grill along with your choice of meat.
Ingredients:
3 bell peppers: red, yellow and orange—seeded and cut in eighths
1 yellow squash, sliced either lengthwise or widths ⅛-inch-thick
2 zucchini squashes sliced lengthwise ⅛-inch-thick
1 eggplant sliced lengthwise into ¼-inch-thick optional
12 cremini mushrooms optional
½ bunch asparagus, trimmed
12 green onions, roots cut off
1 white or red onion cut into half moon shaped thin slices
¼ cup macadamia nut oil
12 cherry tomatoes optional
2 sweet potatoes cut into wedges optional
Salt and freshly ground black pepper to taste
2 Tbsp garlic powder
1 tsp chopped fresh Italian seasoning
1 Tbsp T-Coons All Purpose Seasoning
½ Tbsp rosemary leaves
¼ c Parmesan cheese grated
Instructions:
1. Take sweet potato wedges and pour macadamia nut oil over them. Season with salt and pepper. Microwave till al dente.
2. Place a grill pan over medium-high heat or set in the barbecue on medium-high heat.
3. Brush the vegetables with macadamia oil to coat lightly.
4. Sprinkle the vegetables and sweet potatoes with T-Coons seasoning, Parmesan cheese, Italian seasoning, garlic powder, rosemary, salt and pepper. Working in batches, grill the vegetables until tender and lightly charred all over, about eight to ten minutes for the bell peppers; seven minutes for the yellow squash, zucchini, eggplant, and mushrooms; four minutes for the asparagus, tomatoes, white/red onions, and green onions.
Serve with your favorite steak, pork or chicken. And yes, lamb goes great with grilled vegetables. In this case, as can be seen in the image, I stayed with rather simple and inexpensive Grass-Fed Beef Eye of Round Steaks. They're best when marinated and served rare.
Enjoy.
Submitted by Sandra Slanker