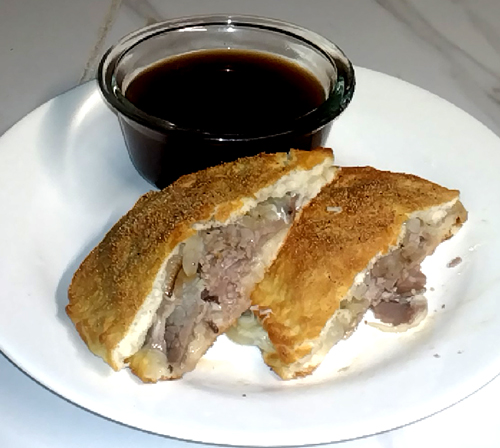 This is great appetizer or lunch. Serve with your favorite salad.
Ingredients:
Biscuits
⅔ c coconut flour sifted
2 tsp baking powder
½ c coconut oil melted
8 large eggs
½ c shredded grass-fed cheese optional
Instructions:
1. In a small bowl, combine the coconut flour and baking powder and mix well. Set aside. In a separate bowl, whisk together the coconut oil and eggs until combined and smooth. Gently
fold through the dry ingredients, along with the optional cheese, and mix until a thick dough remains. Allow the dough to sit for 10 minutes for the batter to thicken.
Ingredients:
French Dip:
Coconut flour biscuits
1 lb thinly sliced grass-fed roast beef
2 Tbsp creamy horseradish sauce optional
1 white onions cut into half moon shaped slivers
1 bell pepper cut into thin slices
8 to 10 slices provolone cheese or mozzarella cheese or Swiss or mixture of any
1 (one-oz) packet Au Jus Gravy mix or beef broth
Salt to taste
Pepper to taste
T-Coons Seasoning to taste
Instructions:
1. Preheat oven to 400ºF. Line a baking sheet with parchment paper.
2. Saute' onions and bell peppers until soft. Season with salt and pepper.
3. Roll out biscuits one-inch thick and cut into two-inch diameter circles.
4. Flatten each biscuit to about quarter-inch thick. For appetizers just use one and for sandwiches use two.
5. Appetizer: Spread each biscuit layer with horseradish sauce. Top half of the biscuit layers with cheese slice, onions, bell peppers, and roast beef. Sprinkle meat with T-Coons seasoning. Fold the other half of biscuit over the top on the meat and pinch edges to seal. Place on the prepared baking sheet.
    Sandwich: Spread horseradish sauce on the bottom biscuit. Top with cheese, onions, bell peppers and roast beef and sprinkle with T-Coons Seasoning. Place second biscuit on top and pinch edges to seal. Place on prepared baking sheet.
6. Sprinkle tops with garlic powder and T-Coons Seasoning.
7. Bake for 12 to 15 minutes, until golden brown.
8. While biscuits are baking, prepare Au Jus Gravy mix according to package directions. Or use beef stock with salt and pepper to taste.
Options: you can add extra cheese if you want.
Enjoy.
Submitted by Sandra Slanker