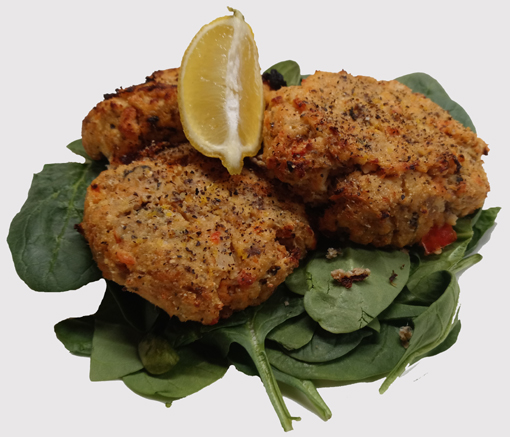 Salmon patties (cakes) are back. Great flavor and moist. Serve with tarter sauce and salad.
Ingredients
1 pound Wild-Caught Minced Sockeye Salmon
⅓ cup macadamia nut oil
1 medium onion finely diced
1 red or yellow bell pepper finely diced
2 garlic cloves minced fine
½ cup coconut flour
2 large eggs beaten
2 tsp Greek yogurt no sugar
1 tsp Dijon mustard
⅓ cup fresh parsley finely chopped
2 tsp fresh dill finely chopped
Salt to taste
1 tsp lemon pepper
Tarter Sauce
¼ cup Greek yogurt no sugar
½ Tbsp. lemon juice
⅛ cup kosher relish
Mix together in a bowl and taste to see if you want more lemon juice or relish.
Preparation
1. Preheat oven to 425° F
2. Drizzle minced salmon with one teaspoon macadamia nut oil, salt and pepper.
3. Dice the onions and bell pepper, chop parsley and dill.
4. In large saucepan add one teaspoon macadamia nut oil and cook onions and bell pepper until they're translucent—about six to eight minutes. Remove from heat and cool.
5. Put minced salmon in mixing bowl. Add all ingredients except the rest of macadamia nut oil. Mix up ingredients by hand (if mixture is still dry add more Greek yogurt).
6. Form mixture into small patties and set aside.
Stove top: In large sauce pan put remaining macadamia nut oil in pan and cook on medium heat. Cook salmon patties four to five minutes on each side. Place cooked patties on a plate lined with a paper towel.
Oven: Wipe macadamia nut oil on baking sheet. Bake patties at 400° F for six to eight minutes on each side till done.
Makes about ten patties and leftovers can be frozen and reheated.
Submitted by Sandra Slanker