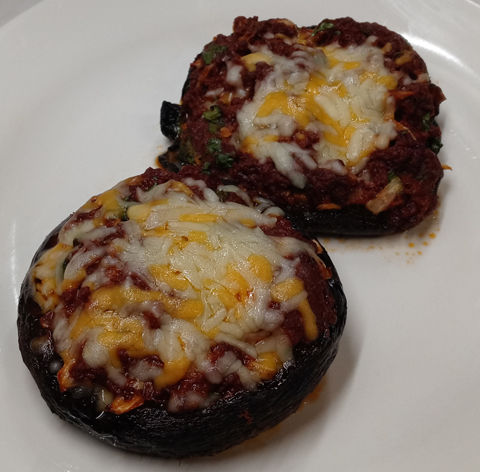 A different kind of hamburger bun. Tastes great and a change from a normal burger.
Ingredients
8 large Portobello Mushrooms stems removed
1 pound Grass-Fed Ground Beef 90/10
1 pound Omega-3 Ground Pork Chorizo
1 Tbsp. macadamia nut oil
½ white onion diced
4 slices Omega-3 bacon chopped
1 Omega-3 egg
2 cloves garlic minced
¼ cup fresh chopped cilantro
½ tsp salt to taste
½ tsp pepper to taste
½ tsp garlic powder
½ tsp onion powder
½ tsp chili powder
Preparation
Preheat oven 375 degrees F
1. Scrape gills out of the mushrooms. Clean with paper towel. Brush oil over top and bottom of mushroom. Add seasonings with salt and pepper. Place mushrooms on sheet pan gill side up.
2. Bake in preheated oven for seven to eight minutes.
3. Mix rest of ingredients in bowl and form into eight patties. Place each patty on top of each mushroom cap.
4. Bake in preheated oven for 20 minutes (until meat is fully cooked).
5. If using cheddar cheese on top, put on five minutes before done.
Serve with sweet potato fries and salad. Enjoy.
Submitted by Sandra Slanker